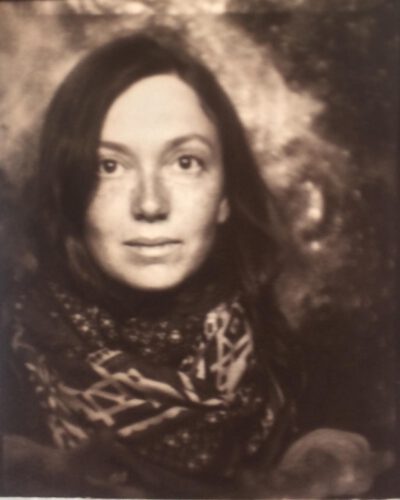 Alica Khaet is a Germany-based artist, animator and performer with russian-israeli background.
Alica Khaet ist 1988 in Rostov am Don, Russland, geboren. 2006 wanderte sie nach Israel aus, wo sie 2007 bis 2009 Animation an der Bezalel Academy of Art and Design, Jerusalem, studierte. 2009 zog sie nach Deutschland und setzte ihr Studium an der Burg Giebichenstein Kunsthochschule Halle fort (Studienrichtung Grafik, Diplom 2018). 2015 absolvierte sie ein Auslandssemester in Prag (Film- and TV-painting an der Academy of Art, Architecture and Design). Alica Khaet arbeitet seit 2018 als freischaffende Künstlerin und Tänzerin in Halle. Ihre Arbeiten sind in den Sammlungen des Hauses der Geschichte der Bundesrepublik Deutschland, Bonn und des Hennebergisches Museums Kloster Veßra vertreten. Ihre Projekte wurden u.a. von der Kunststiftung Sachsen-Anhalt (2020, 2021), WUK Theaterquartier (2021, 2022), Land Sachsen-Anhalt (2020) sowie Stadt Halle (2019, 2020) gefördert.
selected shows
"Sehnsucht nach Freiheit", BAS CS Galerie, Berlin
"Omanut – Ausstellung der jungen jüdischen Kunst in Sachsen-Anhalt", F2 Gallery, Halle Saale
"März ist nicht Mai", Kunstverein Röderhof e.V., duo show together with Joanna Schulte
"Migraartvisible Project", BAS CS Galerie, Berlin
  "Migraartvisible Project", Online Ausstellung via Kunstraum Blech e.V.
Kunst/Mitte, Messe für Zeitgenössische Kunst – YoungArtistSpace, Magdeburg
"Täglich geöffnet", Projektraum Boesner, Leipziger Baumwollspinnerei
"Parcours. Diplome der Burg"
"FRESH LEGS 2019", Galerie Heike Arndt, Berlin
"Verorten_Entorten"/"Located_relocated" – Exhibition of international artists with migration experience, Projekwohnung Krudebude e.V., Leipzig (conception and co-curation)
"Täglich geöffnet", Galerie Volkspark, Halle
"Land in Sicht?", Dornrosa e.V., Frauenzentrum Weiberwirtschaft, Halle
"Entdeckungen. Die Bücher der Burg", Galerie Volkspark, Halle
"Der Mensch ist ein Geheimnis", Lyonel-Feininger-Galerie, Quedlinburg
"Der Mensch ist ein Geheimnis", Dostoevskij Museum, St.Petersburg, Russia
awards and stipends
"Initial 2", provided by Akademie der Künste, Berlin
"Take-heart" Artis-in-residency provided by WUK Theaterquartier, Halle Saale
Artist-in-residency at Kunstverein Röderhof e.V.
"Modul C", project grand provided by Bundesverband für Künstlerinnen und Künstler
Living in Germany, birth of two children.
Studies at the RSUH (Russian State University for the Humanities) Department of Religious Studies (Moscow, Russia)
Russian general higher education entrance qualification (Moscow, Russia)
Born 1988 in Rostov-on-Don (Russia)